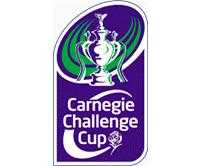 &nbsp

The Challenge Cup (as of 2009 known as the Carnegie Challenge Cup for sponsorship reasons) is a knockout cup competition for rugby league clubs in Europe, organised by the Rugby Football League. Originally it was contested only by British teams, but in recent years the entry has been expanded to allow teams from France and Russia to take part.
Section heading
Edit
Write the first section of your article here. Remember to include links to other pages on the wiki.
Section heading
Edit
Write the second section of your article here. Don't forget to add a category, to help people find the article.
Ad blocker interference detected!
Wikia is a free-to-use site that makes money from advertising. We have a modified experience for viewers using ad blockers

Wikia is not accessible if you've made further modifications. Remove the custom ad blocker rule(s) and the page will load as expected.